Who We Are & What We Do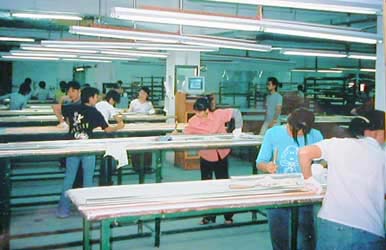 Our line consists of 160 picture frame mouldings, which I designed and which are exclusive to us. They are made for us by my friend Thomas, who, until twelve years ago, had the largest and most respected closed-corner frame company in Europe. Now he looks after 300 highly skilled craftsmen, all of whom he trained himself, in a 225,000 square foot factory in the town of Changping, about an hour's scenic train ride north of Hong Kong.

Thomas taught them the difficult skills of traditional German water gilding, using genuine gold, platinum and sterling silver leafs. But it is the value of these mouldings that puts them in a class by themselves. Their low price is misleading. Nowhere else in the world can you find such a highly intelligent, highly trained workforce--with the payroll only 1/20 that of American workers. At first, Thomas tried to pay them more. But the other factories in Changping complained that it made them look bad by comparison. They protested to the government, and he was forced to lower the workers' salaries to the prevailing rate. But he gives them lots of amenities, like free dorm rooms with only about 3 to a room. All the other factories stuff 12-16 employees in a room, if they even give them a room at all. And he gives them free meals 3 times a day, and land where they can raise a garden. He does try.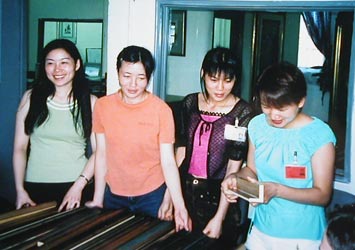 The ladies on the left are in charge of our quality control. Their names are hard to pronounce, so I just call them all "QC mama" like everyone else. I highly recommend a trip to the real China, so you can see for yourself what wonderful, beautiful people they are, and how they cope with being so terribly overcrowded. Changping is called a small town, with 1.5 million people. There is no welfare of any kind in China, and everyone must work or go hungry. People are glad to have a factory job.

All the mouldings are made by hand. Sanding, gessoing, painting, leafing, everything is hand work. There are no machines in the factory, except big German moulders to run the wood. A worker may spend an hour with an agate burnishing one single stick of leaf. Some of our intricate finishes pass through 15 or 20 steps before completion. This is in total contrast to European factories, where literally everything is done by machine. There is a certain look that this imparts to the line. It isnít slick or ordinary. It is easy to tell that each stick is done one by one by skilled craftsmen.

To see pictures of the line right now, CLICK HERE FOR CATALOG PICTURES

Or read on for:


Policies and Practices


We sell to frame and art professionals with stores. If you live farther than 100 miles from one of our customer's stores, we do not require a storefront, but we do require a $100 order. We do not advertise or make known our website, except in picture frame industry publications. We are in no search engines or browsers of any kind.

Corner samples are recommended. We supply chevron cut corners 6 1/4 inches on a side, labeled and vel-cro complete, for the cost of 6 inches of moulding at the length price. Minimum order: 8 samples. To order corner samples for your shop, please call Garrett at 800-726-7206.

Customers are encouraged to place orders by telephone (I generally answer myself), or by fax. This web site is intended as a reference catalog.

Orders placed by 1:00 Pacific Time (4:00 Eastern) generally go out the same day. Standard delivery is 3 day service to the East and 1 or 2 days in the West, but faster delivery is always available.

We are very proud of our chop service. I designed the special machine that cuts the miters, and I do all the cutting myself. Customers tell me that our corners always go together perfectly. I should expect so: they are the result of 40 years experience and over $15,000. spent on my saw!

All of our mouldings can be shipped full length via UPS. Each stick is 106.25 inches long, or just under 9 feet. This allows us to keep the boxes under the UPS maximum of 108 inches. We can get 100 to 200 feet in one box. For small quantities of moulding, we try to save you shipping costs by keeping the packages under five feet long.

Our moulding numbers mean something, which helps to prevent errors. The number, like the 134 in M134-WGGA, is the size of the bigger dimension. In this case it means the moulding is 1 3/4 inches tall. Similarly, the IT178 series is 1 7/8 inches wide. The letters after the number are the initials of the finish. So WGGA stands for Water Gilded Gold Antiqued, and 12KG stands for 12 Karat Gold. The first letter sometimes means something and sometimes it doesn't: IT stands for Italian, for example, and M generally means Modern and FR means French, but K has no particular meaning. OK? This will all be on the final, so study it carefully!

Click here for pictures of our moulding.,
or click on any of the pages listed below.







---
| Return Home | Who We Are & Policy | Catalog of Mouldings | Contact Us | Salesmen |